A Leicestershire business leader whose 45-year career has span entrepreneurship, large corporations and local economic development has been honoured with a special award by East Midlands Chamber's Enterprising Women network.
Sue Tilley, head of business and innovation at the Leicester and Leicestershire Enterprise Partnership (LLEP), received the Lifetime Achievement Award at the Enterprising Women Awards 2023.
She was one of 10 winners at the network's gala dinner celebration, held at Winstanley House in Leicester tonight (Friday 6 October) in association with headline partner Michael Smith Switchgear.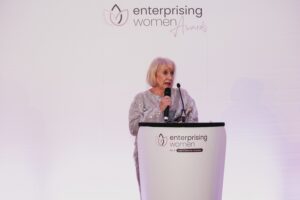 Sue's career began in 1978 with establishing Leicester-based textiles business Classy Rags. Specialising in uniforms and corporate clothing, she grew the company to secure contracts with blue-chip companies before selling it in 1995.
The next 12 years were spent working in corporate business development and sales in Bristol, before returning to Leicestershire to lend her commercial leadership skills and experience to the public sector.
Since 2008, Sue has headed up inward investment and economic strategy and innovation roles at Prospect Leicestershire and LLEP, where she steered the Business Gateway Growth Hub – a European Regional Development Fund-backed programme that has supported more than 4,000 businesses, provided £2m in grants and created 212 jobs since 2019.
After winning the Lifetime Achievement Award, sponsored by Paradigm Wills & Legal Services, Enterprising Women co-chair Eileen Perry MBE DL said: "Throughout her career, Sue has been a passionate advocate for women in leadership roles, using her own positions to provide opportunities to others.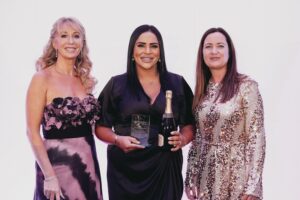 "She has also led a business growth and innovation agenda, engaging with senior figures from industry, business and public sector to get the best deal for Leicestershire."
In a speech, Sue spoke about her career and the hurdles she has overcome, before telling the audience: "I truly understand the challenges that entrepreneurs face. I'm so proud of you all – you fuel the economy, you are brilliant and just keep going."
The other headline award for Business Woman of the Year was Jaz Kaur, co-founder and CEO of Fraser Stretton Property Group.
Combining her property law knowledge with new technology adoption and a bold vision, she has been the driving force in establishing a property group that has evolved to offer services for landlords, new-build developers, business owners and property buyers. She has overseen huge growth in the Leicester-based agency's managed portfolio of properties and turnover, and is now planning for UK and international expansion.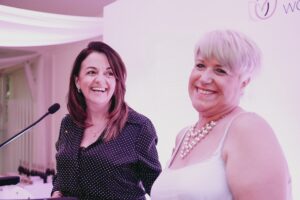 Honours were given to women across the career spectrum – from Apprentice of the Year to Female Entrepreneur of the Year – with categories for both individuals and teams.
Another special award was presented by Enterprising Women co-chairs Eileen Perry MBE DL and Jean Mountain to Mary Storrie, CEO of the Rosie May Foundation. Next year will mark the 20th anniversary of when she founded the charity in memory of her daughter Rosie May, who was murdered aged 10 by a 17-year-old boy she knew in December 2003.
Mary's leadership skills, strength and resilience have enabled the foundation to grow from a kitchen table to a small international charity that supports vulnerable families and children.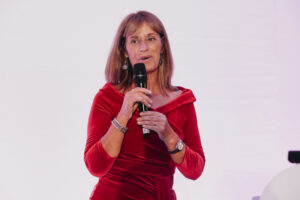 About 350 people attended the gala dinner, which was hosted by ITV weather presenter Emma Jesson and featured a performance from Luzahnn, best known for being part of 1990s house music group Livin' Joy.
The celebration is the main event in the calendar for Enterprising Women, which supports and champions women in business across the East Midlands via a series of networking events, interactive workshops and guest speakers throughout the year.
Jean Mountain, who founded the Enterprising Women network 26 years ago and is co-chair, added: "After some wonderful celebrations for our silver jubilee last year, Enterprising Women continues to go from strength to strength – as do our members, evidenced by the tremendous quality in entrants, finalists and winners in our awards.
"There is a wide breadth of female talent across the East Midlands business community and we are proud to once again celebrate their achievements with the support of our fantastic partners."
For more information about the Enterprising Women network and to view upcoming events, visit www.emc-dnl.co.uk/services/enterprising-women
Enterprising Women Awards 2023 winners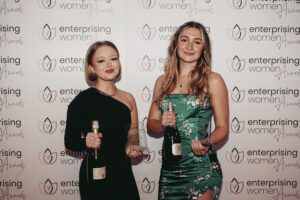 Apprentice of the Year (sponsored by Futures Housing Group)
Alice Lees, Rolls-Royce and Sophie Shapcott, Smith Partnership (Derbyshire)
Social Commitment Award (sponsored by She Inspires Global)
Cosy Direct (Derbyshire)
Female Employee of the Year (sponsored by Nelsons)
Asiya Parekh, Leicester Hospitals Charity (Leicestershire)
Rising Star (sponsored by Amanda Daly – The Turnaround CEO)
Ruby Birks, Purpose Media (Derbyshire)
Female Entrepreneur of the Year (sponsored by Fraser Stretton Property Group)
Sally Faulkner, Bond Street Distillery (Leicestershire)
Team of the Year (sponsored by Breedon Consulting)
PPL PRS collections team (Leicestershire)
She Who Innovates (sponsored by Pick Everard)
Therese Lord, Jacob Lord and Jason Lord, Construct3D (Lincolnshire)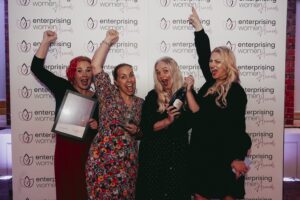 Small Business of the Year (sponsored by Unique Window Systems)
Katapult (Derbyshire)
Business Woman of the Year (sponsored by Michael Smith Switchgear)
Jaz Kaur, Fraser Stretton Group (Leicestershire)
Lifetime Achievement Award (sponsored by Paradigm Wills & Legal Services)
East Midlands Chamber Enterprising Women Awards 2023 winners (emc-dnl.co.uk)