How we are responding to COVID-19
Rosie - The Little Pink TUK TUK - Supports the Community!
Helping the community post pandemic
We just wanted to update you on how the Rosie May Foundation is responding to the challenges of coronavirus (COVID-19) and the measures we are taking to ensure we can continue helping our families in Sri Lanka and Nepal as well as those in our local community at this difficult time.
We are following government advice and reviewing our contingency plans daily to reduce any risk and make sure our staff, volunteers and beneficiaries are all safe.
We are grateful for a donation from the Vale of Belvoir Rotary Club to help keep Rosie on the road!
We are grateful for any donations towards this project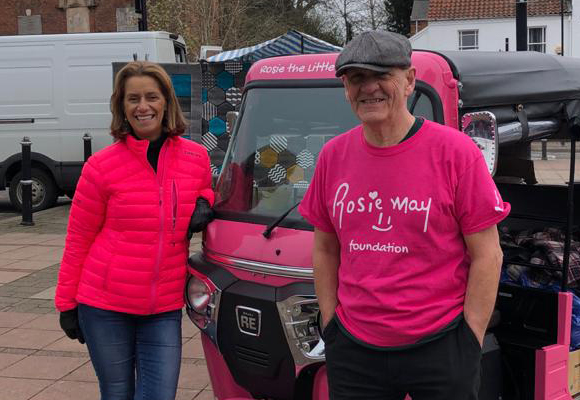 In our local community we are utilising Rosie the Little Pink Tuk Tuk to help vulnerable families, who are self-isolating, by training volunteers to drive so we can deliver basic essential items and help keep them safe.
In Sri Lanka and Nepal families are in exactly the same situation, schools are closed and our mums are struggling to work and provide for their families. We have given a dry rations pack to all our vulnerable families and our team on the ground continue to support them remotely.
Our office is obviously closed and we are working from home to coordinate our efforts. All our fundraising events for March, April and May are being postponed and we will continue to assess, revaluate and to keep you all informed.
We are hoping that our biggest event the Rosie May Ball will go ahead as the fundraising it will be much needed.
We would like to reassure you that we are very much still here and working to do as much as we can to help keep people safe in these very uncertain times. We understand this is both worrying and challenging for everyone, on so many levels.
We are committed to staying positive and lifting the spirits with Rosie the Little Pink Tuk Tuk. We're trying to bring a smile to everyone's face, wherever we can, look out for her in our local community and on social! If you want to find out how you can help contact us by email or face book.
Thank you for your ongoing support of our work at the Rosie May Foundation, as always – it's very much appreciated.
Stay safe and look after yourselves, your loved ones and your neighbours. We will get through this together.
Love
Mary and the Rosie May team
We have been featured in a number of local news reports, to help us advertise the great work thats being done – here is one from BBC Radio Nottinghamshire!