Rosie May was only 10 years old when she was killed in 2003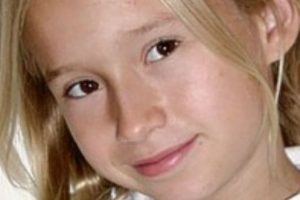 A Nottinghamshire mum has won an award recognising her hard work and commitment towards the foundation she opened after her daughter was killed at a Christmas party. Mary Storrie received a Special Recognition Award at this year's Enterprising Women's Awards, highlighting her leadership skills, strength, and resilience within the Rosie May Foundation.
The foundation, which is based in Bingham and will soon celebrate its 20th anniversary, was set up by Mary, 62, in memory of her daughter, Rosie May, who was killed at just 10-years-old. She was strangled to death by a 17-year-old boy she knew at a Christmas party on December 28, 2003.
A year later in December 2004, Rosie May's parents and two older brothers decided to escape their horrific memories on a family holiday to South East Asia. There, they planted a palm tree in memory of their daughter and sister, which miraculously survived the tsunami that hit the shore of the Indian Ocean on December 26, claiming more than 230,000 lives across 14 different countries.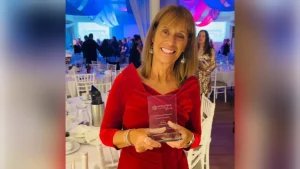 Mary Storrie and her Special Recognition Enterprising Women Award
The palm tree represented the inspiration behind the foundation, which has so far helped rehome children who lost their parents in the 2004 tsunami, but also helped deliver necessities such as food and medicine to vulnerable families during the Covid-19 pandemic. Mary said: "It's incredible that we've been given this recognition, and particularly, I think, within our local community, because that's really important to us, because we're a local family and Rosie May was a local girl.
"Setting up the foundation has helped with the grieving process enormously as it's given us a channel to be able to focus on. For us as a family and indeed for anybody else that's been affected by the murder of Rosie May, it gives us something positive to work towards and also, importantly, allows us to keep her name and her memory alive. The ripple effect actually is huge and it's something that you can't really measure."
This isn't the first time Mary's efforts have been recognised. In October 2020, she was crowned Pride of Britain for the East Midlands Fundraiser of the Year, for her remarkable fundraising initiatives during the pandemic.
In December 2017, Mary, who completed her Masters degree at the University of Nottingham, also received the prestigious Laurette Alumni Award for her advocacy and international work. The charity's priority now is represented by the Think Pink initiative, which aims to recruit, train, and mentor women taxi drivers, in partnership with DG Cars.
Mary said: " We will continue to work to build on the foundations that we've already established, so that's working to get more women into the taxi industry, that's a priority for us." Besides donating and organising fundraisers, people can support the charity by volunteering to work at various events hosted by the foundation.
The next event, Strictly Rosie May, will take place from January to March and will see a recreation of the famous BBC Strictly Come Dancing show. Besides raising funds for the foundation, the event will also encourage people 'with two left feet that usually stand at the bar' to take on dancing lessons.
Family's lasting legacy for Nottinghamshire girl, 10, strangled at Christmas party – Nottinghamshire Live (nottinghampost.com)