Rosie The Little Pink Tuk Tuk takes to the streets of Nottingham delivering essentials to the vulnerable during coronavirus lockdown.
The pink vehicle has been 'revived' to cheer up the Bingham community who are self-isolating during the coronavirus pandemic.
The tuk tuk has been brought from Sri Lanka all the way to the UK in August through the 'Think Pink' project, an initiative started by Rosie May Foundation.
The vehicle went in hibernation for the winter and is now on the mission to serve the people who need it.
But Rosie The Little Pink Tuk Tuk comes with a strong message to the community.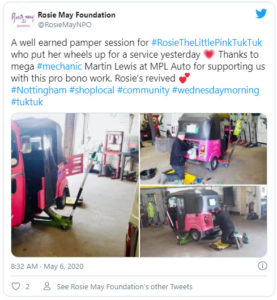 The pink vehicle arrived in the UK last August and is usually busy at the charity's events promoting the Think Pink programme. This is an initiative for single mums in Sri Lanka to provide them a better future.
Sam Ellis, fundraiser and Partnership Manager at The Rosie May Foundation, said: "The last 16 years the charity has worked really hard to train and educate single mums so they can support their children.
"Because in Sri Lanka if you don't earn in income, your children have to go into an orphanage.
"One of our programmes we run in Sri Lanka is to train single mums how to drive tuck tucks."
This initiative comes in aid of vulnerable single mums who don't earn an income, after studies have shown that over 90 per cent of children and women in Sri Lanka have experienced sexual harassment on public transport.
Sam added: "So what we thought was that the tuck tuck is a symbol of safety.
"So the women can learn to drive a tuck tuck and earn an income and keep their children together."
The foundation brought one of the 12 pink vehicles that are currently running in Sri Lanka to raise awareness on the programme and contribute to the project.
Sam said: "We brought a pink tuk tuk here to raise awareness on our overseas programme.
"It can be used at events, or weddings, so people can hire the tuk tuk and have a representation of our work in Sri Lanka."
But, since lockdown, Rosie The Tuk Tuk has been given a new mission to accomplish. The pink vehicle will be delivering food, essentials and medication to the vulnerable who are in isolation.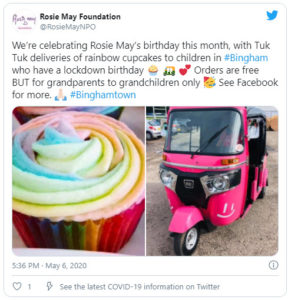 "We've got into a routine and we now have 16 volunteer drivers.
"We are close to deliver to a thousand of people next week in lockdown.
"The reach is fantastic, we're getting vital medication out – we are delivering a smile, so important for mental health"
This action comes in the effort to maintain the ongoing project an Sri Lanka, but also as a support to the community amid the COVID-19 pandemic.
"Through our emergency appeal we are raising money to feed our families that no longer have an income. For £15 you can feed a family of six people.
"But we've also managed to very quickly create a project which reacts to the needs of the community.
"There are a lot of strong messages from our charity vision."
The Rosie May Foundation in itself has a history. The charity was set up 16 years ago by Mary Storrie and her husband, after a tragic event that changed their lives forever.
Their daughter Rosie May was murdered at a family Christmas party in the UK in 2003. The 10-year-old was strangled to death by another family's son.
After this, her parents wanted to create something that will help families in need.
Sam said: "The front person of the charity is Mary Storrie. She has absolutely devoted her life to create a legacy so her daughter didn't die in vain."
The foundation has since then developed projects and programmes in both Sri Lanka and Nepal, to support the single mums and their children, and keep families together.
Sam said that this time in lockdown is a good opportunity for the charity to raise its profile and continue spread their message across UK communities.
She added: "We've got a lot of people coming forward who are arranging virtual events, like virtual quiz or a virtual 10K.
"Yoga teachers are raising money through online yoga events, and our social media platforms are enouraging our supporters to donate too.
"It' s about keeping in tough with people and trying to support the community through these difficult times really."
Sam reinforced that although there is a global pandemic that affects everyone, the social and financial discrepancies between people are crucial and affect their time in lockdown.
"We're in the same water, but on the same boat. Lockdown when you already live below the poverty line is harsh.
"These women don't have another means of support.
"They needed us before coronavirus and they need us more than ever."
For more details about how to support the charity running its projects in Sri Lanka during lockdown, click here.