rosiemayfoundationblogUncategorized Dec 3, 2020 6 Minutes
By Alice Burchfield
2020 brought many challenges due to the pandemic, with one of the most effected industries being the Performing Arts. Whether it be the technicians, performers, audience members or directors everyone has been affected in a different way. One thing we all have in common is our love and passion for the arts, the theatre and all the magic that is involved. Therefore upon my return back to my drama group, Musical Theatre High, there was a huge enthusiasm and excitement around being able to perform again. This term is usually our charity term where we aim to raise money for the Rosie May Foundation and this year the academy have chosen to put on a variety of different Christmas themed performances. This did mean we were singing Christmas songs in September, but we can't complain about getting in the Christmas spirit a little bit earlier than normal. MTH! are planning on showcasing the local communities talent in numerous performances with the main aim being to raise money for our affiliated charity. From 2013, as a theatre academy we have put on an annual Christmas performance for friends and family with the aim to raise as much money as we can for the Rosie May Foundations, Mary and Graham have come along to numerous performances, which makes them even more special. Last year we raised over £2,000!! The founders, Mary and Graham offer a scholarship to one student which will fund their training for the following year. I've been lucky enough to catch up with some of the winners and had a chat to them about their experience with the charity and what the scholarship meant to them.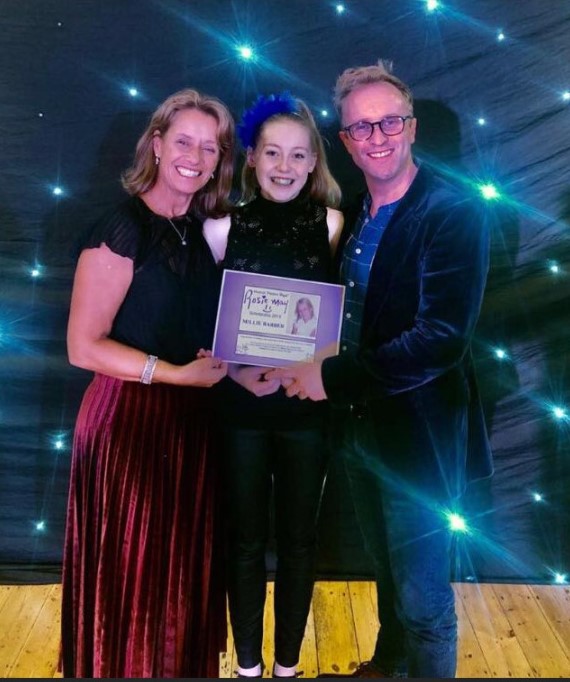 Last years winner, Millie Barber, received the scholarship "for showing dedication" and having " a great attitude as well as making vast improvements". Having known Millie for a few years now, her talent and skill have improved so much and her respect and passion for theatre is undeniable. The scholarship, presented by Mary at Technique's performance of Moulin Rouge, made Millie "realise that my passion for the arts was recognised and it inspired me to go further". The opportunity that Mary and Graham offer a child annually impacts every student differently, for Millie, she said it helped me so much after my family was struggling to afford classes(especially since we couldn't work because of COVID)." She also added that her favourite performance was our up and coming production of Cinderella, being shown on the 16th December. The panto features many upbeat dances, jokes and is guaranteed to put a smile on anyone's faces. She said that it has been a "learning curve for us all, having to do an entire show socially distanced" and that she was excited to be playing the role of Prince Charming.
2018 winner Zoe White won the award for her commitment and dedication to Musical Theatre High as well as her incredible performance skills. She won the award during Saturday Seniors performance of A Chorus line where she played Morales and performed one of her favourite solos. Zoe described the scholarship as meaning "a lot to me as Rosie May's story had been told at every charity performance I've done and to win an award in her name was so incredible and made me feel very proud". The following year, Zoe also played Elphaba in the theatre school's annual Variety performance,taking a leading role and singing solo in Defying Gravity and leading her class in the number.
Spencer Digby was another one of the Rosie May Scholarship winners, having received the award for what he described as his "enthusiasm I showed towards MTH and my work ethic towards improving my performances and helping others". At the time of receiving the scholarship he was also assisting at the Technique show doing the sound, whilst he was still in the Senior classes. When talking to Spencer he said the award was " a real confidence booster for me because it helped me recognise the potential that I had and to aspire to push myself further." He also added that "through the confidence that I have gained by getting this award it has led me to now become the first head boy at MTH which means the world to me". Having worked with Spencer over the last few months, as Head Girl at MTH, it has been made so clear how passionate he is about the academy and everything he does. He is always there to offer support, guidance or a good laugh to any of the students and I can tell how grateful he was to be awarded this scholarship. Whilst discussing the Charity he commented that "after getting Head Boy i have spoken to them (Mary and Graham) more and been more actively involved". He said that "Mary and Graham are really lovely caring people who are really supportive and determined to make a difference". Everyone who has the honour of meeting the founders has commented on their warmth and interest towards the performance. For Spencer his favourite performance was Moulin Rouge in 2019 where he played the leading role of Christian which he described as a "really demanding and emotional role but I just loved getting into this character and performing with the rest of Technique as they are all so supportive and talented. With this being said, there isn't one performance I haven't enjoyed"
The first ever Rosie May Scholarship winner was Alice Hardy who received the award in 2013. She said that "despite being in the ensemble and not having a leading role, I engaged with the performance as much as I could and gave it my all". Having known Alice for quite a few years her smile, enthusiasm and great sense of humour as well as her talent still shine through! For her, "winning the scholarship had such a positive impact on me as it helped me build my confidence even further. It also reminded me that it doesn't matter what part you play, even if it's not a lead role you can still bring loads to the performance, which is such an important thing to remember". This is one of the key principles ingrained in the work and classes at MTH! as it demonstrates the reality of the industry in not getting the leading role at every audition but also how a show can't run without the ensemble. When she met Mary and Graham after receiving the award she said it was "amazing as they are both such inspirational people! I'm so proud that we can help the Rosie May Charity". Annually, Musical Theatre High have beaten their previous fundraising totals thanks to audience members' generosity and the amazing work of everyone involved who work so hard to raise as much as they can for a worthy cause. Alice said her "favourite charity performance is definitely Cinderella, which we're working on at the moment! I'm gutted we can't perform it to a live audience due to government regulations but it's been so much fun to work on." Alice is now one of the oldest members in Technique and always comes in with a smile and such a positive attitude, guaranteed to make everyone laugh. This year she is playing the role of Swish, providing comedy and a new dynamic to the performance.
Musical Theatre High is putting on a variety of performances starting on the 16th December until the 19th of December. Due to the current situation and the inability to hold a live audience, they will be filmed for family and friends and a link will be attached so people can donate online. The Dance classes are performing pieces from The Snowman, Home Alone and Turkey Lurkey Time, all of which are guaranteed to get you into the Christmas spirit or whisk you away to a snow covered land with smiling snowmen all around. The Juniors Musical Theatre classes are doing a collation of Christmas carols, poems and dances in The Magic Of Christmas in hopes of getting your feet tapping and testing you on your 12 days of Christmas knowledge. The Senior Musical Theatre Classes are pulling together their favourite movies in a Christmas Movies Spectacular with extracts from The Muppet's Christmas Carol, The Grinch and Elf as well as the classic All I want for Christmas is You! The Boys class is also putting their own spin on Christmas featuring classic holiday tunes and is guaranteed to make you smile.
So many students lives have been affected by the Rosie May Foundation and many are inspired by the work they do. Even if they haven't won the scholarship, we have all heard their story and are in admiration of all they continue to do. For the winners, the award has built their confidence, inspired them to pursue a career in the arts and made them realise their potential. Mary and Graham will be also awarding a new scholarship this year virtually, everyone is so excited to see who it is and we all can't thank them enough for their continued generosity! As an academy we are so excited to put on our Christmas performances and can't wait to see how much we raise!