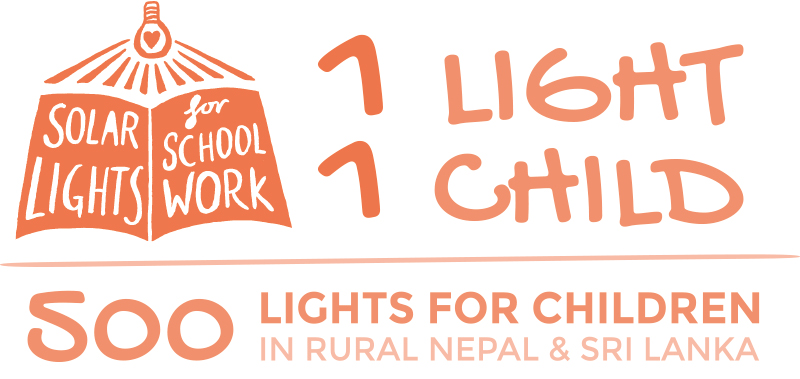 Imagine a world without light, in which children can't see to do their homework because they have no electricity…
About One Light, One Child
Since 2016, we have distributed over 500 solar lights to children living without electricity across rural Nepal. The lights help children to see to do their homework at night, keeping them safe from the dangers of open fires.
As unimaginable as it seems, energy poverty is the reality for many children living in rural Nepal. In the village of Mangri, there is no electricity, and children live two days walk from the nearest motor road!
Working in partnership with SAHAS Nepal, Solmates Australia and schools from around the world, we are providing solar lights to some of the world's most isolated children. The solar lights are provided by Solmates, an organisation dedicated to providing affordable lighting solutions to people living off electricity grids. With the help of children in schools in the UK, Australia, Singapore and China, students get to help directly by learning how to assemble a solar light for a child in Nepal.
Why is One Light, One Child needed?
47% of Nepalis have no access to electricity (Energypedia)
Only 8% of those living in rural Nepal have access to electricity (Energypedia)
78% of Nepali households are solely reliant on solid biomass fuels for cooking and heating purposes (National Life Standards Survey-Nepal 2011/2012)
Nepal's electricity demand has more than doubled between 2005 and 2014 with supply not keeping up with demand (Nepal Electricity Authority).
This project aims to:
Educate: Support isolated children in rural areas with advanced technology so they can continue their studies at home after school.
Improving Health: Reduce the risk of indoor air pollution through the burning of biomass fuels and effectively deploy solar lights to those children most at risk.
Enable an understanding of the risks faced by children in isolated communities and to create awareness by connecting children in the Global North to those in the Global South.
One Light One Child works towards the UN's Sustainable Development Goals:

One light One Child fits the United Nations Convention on the Rights of the Child, within the following articles:
Article 3 – Best interests of the Child
Article 6 – The right to life
Article 9 – Right to a family life
Article 27 – An adequate standard of living
Article 28 – The right to a quality education
Ayan's Story
Ayan and his parents are thankful for his solar light. Before he had his light, Ayan would sit close to the open fire to try and read at night. Sparks from the fire would burn his skin. Sometimes, there would not be enough wood to make a fire so Ayan could not see to do any homework at all. Before he goes to school, Ayan makes sure he puts his light in the sun to recharge, because he knows that 8 hours in the sun will give him 8 hours of light at night. Now, Ayan cannot wait to get home and read his school books every night!
What next for One Light, One Child?
The cost per light is £25, all of which goes to the purchase of the light and transportation costs. There are no overheads or charity costs involved. Photographs will be taken of each child receiving their light and sent to us by SAHAS NEPAL so that students can see exactly who receives their light.
Is your school interested in becoming a Solmate?
Click here to get in touch with Emma to find out more!